We provide effective healthcare services
We want to be the best partner to our customers and a forerunner in modern clinical laboratory services. This is enabled by our strong expertise in the field, upholding quality and responsibility in our work, as well as constantly innovating and developing new ways to answer to our customers' needs.

For over 60 years medical professionals from public to private institutions have relied on our expertise.

The origin of our company dates back over 60 years ago when in 1955 United Clinical Laboratories was founded. It was at that time the first private clinical laboratory in Northern Europe. Later in 1964 Medix was founded by a group of researchers. Throughout the years both companies specialized in different areas of clinical laboratory services. United Laboratories developed close ties with the private healthcare community, whereas Medix focused more on scientific research and the public healthcare market - both leading the way in their respective fields. In 2009 these two companies came together in a merger creating United Medix Laboratories. Today United Medix Laboratories combines the traditions and signature characteristics of both companies by incorporating scientific curiosity and the care perspective to our business.
From the July of 2018 we have been a member of SYNLAB, the biggest influencer in the field of laboratory services in Europe.

All our services are performed by trained professionals and by following international standards to ensure measurable quality

Quality is of the utmost importance to us. In addition to complying with international quality standards, legislation and industry regulations, we also have strict in-house quality management and auditing practices.
Our high-quality services are based on internationally recognized standards:
SFS-EN ISO 15189 Medical laboratories — Requirements for quality and competence
SFS-EN ISO/IEC 17025 General requirements for the competence of testing and calibration laboratories
SFS-EN ISO 22870 Point-of-care testing (POCT) — Requirements for quality and competence
Our management system is designed to ensure reliable and high-quality results, covering all activities of United Medix Laboratories and its partners. With regard to pre-clinical and clinical trials we follow the OECD Good Laboratory Practice (GLP) guidelines. Our doping control analysis laboratory complies with the International Standards for Testing and special requirements of the World Anti-doping Agency (WADA). Our laboratory has demonstrated its competence to the Finnish Accreditation Service (FINAS).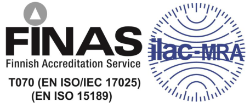 We are committed to responsible and sustainable business
We serve our customers with the help of our 150 qualified professionals. Each and every team member at United Medix Laboratories is an expert in their own respective field and actively engaged with their specialization. The wide expertise and well-being of our personnel forms the foundation for our work.
We aim to provide our staff an innovative and dynamic workplace culture where we will succeed together.   We value all of our employees and trust them to strive towards our common goals. We expect our entire personnel to act in accordance to our company values and corporate social responsibility principles.
Our corporate social responsibility is focused on five key areas:
Stakeholder engagement
Product and service responsibility
Economic responsibility
Social responsibility
Environmental responsibility